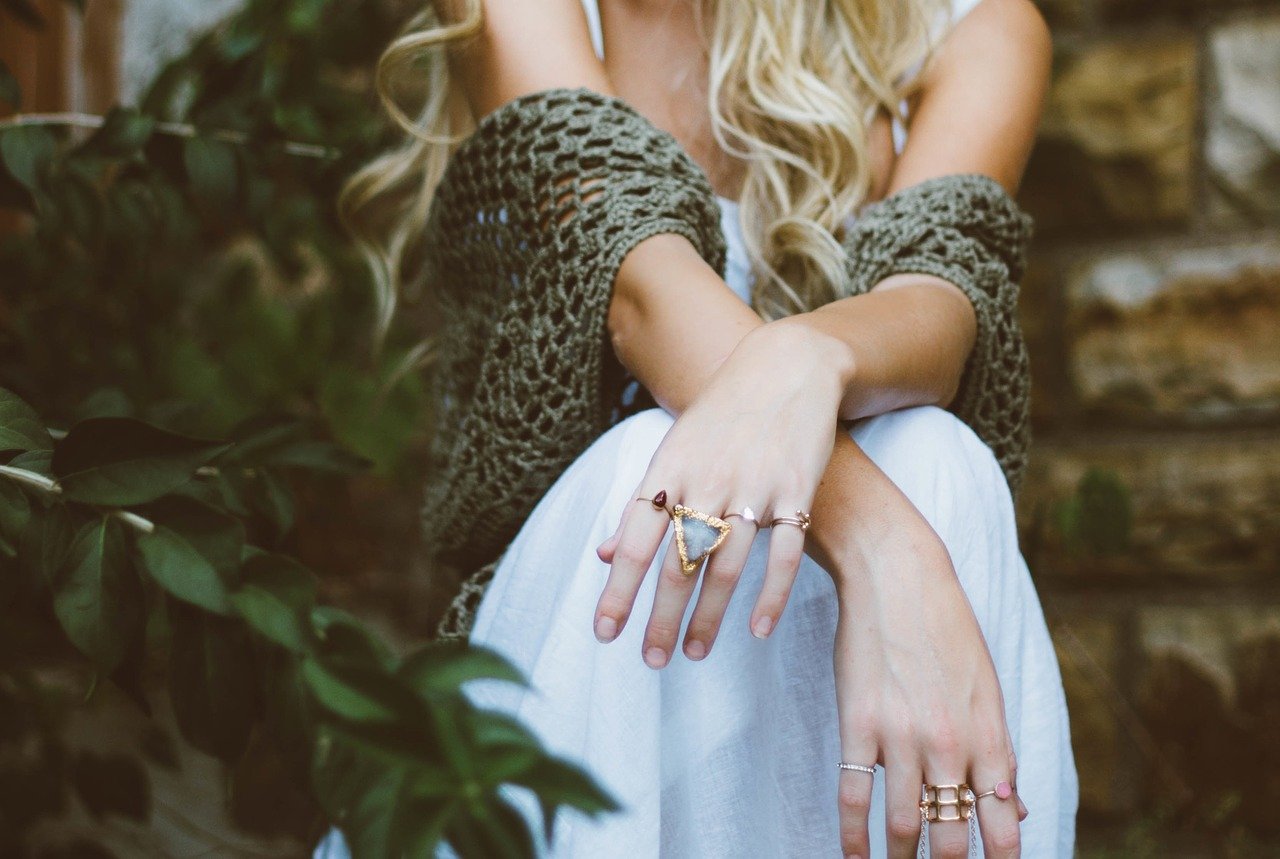 Boho style is still in fashion. It comes back in different versions, not only on catwalks. It is fashionable especially in summer, but stylists say it is also a great idea to revive autumn stylizations. See what jewelry fits boho style.
Boho style refers to hippie style which is characterised mainly by vivid colors and fancy patterns. That is also how jewelry should be in this style.
How to choose boho jewelry?
Boho style jewelry is mostly glittering and colourful. So if you want to choose such accessories, go for big, gold, silver or multicoloured ones. Boho jewelry refers to ethnic patterns. Any necklace or bracelet with a flower, leaf or shell motif will be perfect. Lace is also a great option.
Materials and patterns
The most common materials used in this style are gold, silver or copper. Of course, the light boho style can not miss all kinds of feathers. They are often an interesting, expressive color accent of more subdued stylizations.
In boho jewelry decorative stones are used, including turquoise, opals and quartz. They resemble Indian jewelry. Natural stones look great with thongs and cords. Boho style bracelet also includes wooden, glass and pearl beads and seashells.
Jewelry in boho style does not have specific patterns and motifs. Creativity counts here, but there are a few that appear here most often. Certainly these are the mentioned feathers, which are associated with freedom and lightness and therefore accompany this style almost from the beginning.
Animal motifs are also very popular. When creating boho styling, it is worth to reach for pendants in the shape of an elephant or a bird, for example. Another frequent motif are arrows, especially in rings and bracelets.
Necklaces
They can be a combination of currently fashionable minimalism with expressive colors. If you are wondering what necklace to choose for your boho look, go for multicolored chokers with feather pendants or slightly longer and heavier ones, reminiscent of dream catchers. Whether your boho style is a combination of floral prints or airy, white dress – necklaces will be perfect for your outfit.
Bracelets
Don't be afraid to combine colors with patterns. If you want to have more than one bracelet on your wrist – go ahead and use your favourite colors and materials. Combine bracelets with stones and beads, stringing with feathers and seashells. Boho style is a perfect way to show creativity.
Since boho style is mainly associated with freedom, an ankle bracelet will also be a perfect accessory. This one is associated with vacations and summer, that is why it is worth to match it with styling which will surprise everyone with lightness and airiness.
Rings
Whether you prefer silver or gold accessories, you are sure to find the perfect boho style rings for you. Just like with bracelets, you cannot wear too many rings with a boho style. You can put one or more rings on each finger by combining plain, plain rings with rings made of colorful beads.
Boho jewelry is all about no boundaries and complete freedom to wear accessories. It depends only on you whether you bet on bracelets, necklaces and rings as decorations for one styling, or decide on one, but more expressive accessory
Main Photo: Free-Photos/pixabay.com