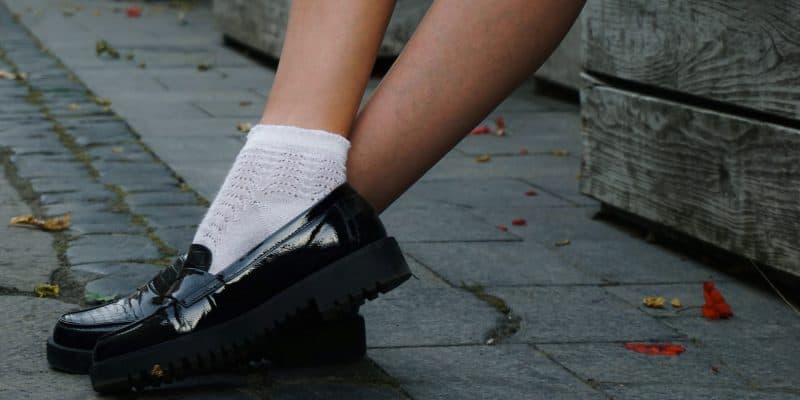 Loafers are shoes that are a fashion hit of the last few seasons. It is safe to say that every second woman owns them, and others are planning to buy them! They fit many outfits and add character to many outfits. Are you curious about what clothes you can wear these great shoes with? Be sure to read this article!
Loafers with casual jeans and a trench coat
Loafers look great in combination with loose jeans and a trench. This is one of the most recognizable combinations, where this type of footwear reigns supreme. For this, just wear wide, blue or black jeans. Match them with a loose shirt or T-shirt. Embellish the whole thing with the handbag you like best and stylish, large jewelry. And what kind of trench? It all depends on you. For several seasons the most fashionable ones are camel, but you can boldly choose another shade.
Loafers and suit pants
Suit pants are something that women have come to love in recent times. They are elegant, fashionable and fit for many occasions. Loafers are a great match for this type of pants. What's more, you can wear them with long white or black socks. Put the whole thing together with a jacket or coat. Classic shirts or shirts with a masculine cut go very well with suit pants. Match it with a stylish handbag and shiny jewelry, and spice up the whole look with hair and makeup. You will look unearthly!
Loafers and dresses – that's it!
You think loafers are too heavy for dresses? Nothing could be further from the truth! Many models will love this type of footwear. For example, knitted dresses of the midi version – here loafers will fit perfectly. If this dress has a black color, then choose for it black shoes and a colorful, distinctive handbag. Dresses in maxi version also look great with loafers. It's worth trying on try on and see for yourself – after all, fashion is fun!
Loafers in combination with a shirt jacket
We have already mentioned that loafers are a hit of recent seasons. The shirt jacket is also such a hit. It is a very fashionable and comfortable solution. What's more, such a garment goes well with loafers! Choose such a jacket, and go with a sweater and jeans pants. Complete the whole with your favorite shopper-style bag and jewelry. The whole look will be very stylish and is sure to impress your loved ones.
Loafers and pleated skirt
Loafers also go well with a pleated midi skirt. To it, just wear a classic T-shirt and a stylish coat. The whole look will be very elegant, characterful and fashionable!
main photo: unsplash.com/David Karp