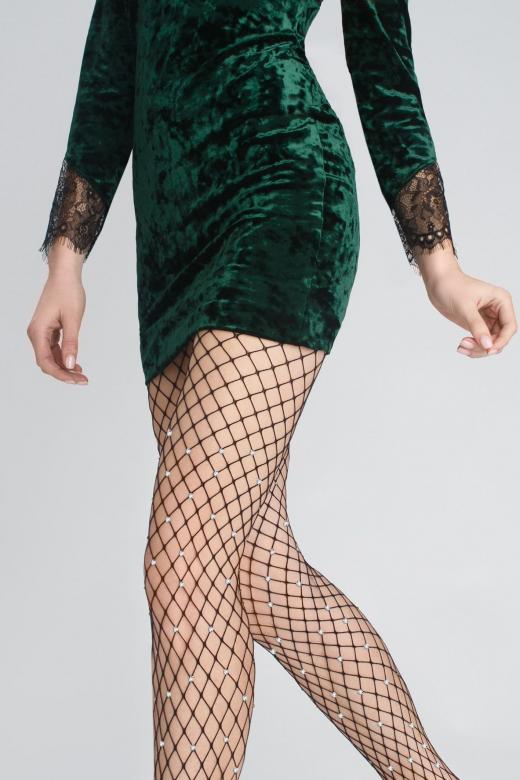 A few years ago a real fashion hit, later somewhat forgotten, to return to favor again. We are of course talking about cabarets. These "holey tights" allow to create many interesting stylizations, you just need to know how to wear them.
Fishnets, or "tights with holes", to be precise made of mesh with small or large mesh, are one of the sexiest elements of women's closet. Several years ago they were a real hit and were worn by women all over the world. In recent years they have been worn relatively rarely. Fortunately, their beauty has been appreciated again and they are back in style!
A brief history of fishnets
Fishnets are tights or stockings with a mesh texture. They originated in France at the end of the 19th century. At that time they were considered to be a typical attire of ladies of light habits, because they were worn by women who worked in brothels and were involved in the oldest profession in the world. At that time it was unthinkable for respectable women to wear them. Many people may associate cabarets with the Moulin Rouge, a cabaret located near Montmartre in the red-light district, which became famous for its dancers dressed in just such tights
The perception of this item of clothing changed only in the mid-20th century. By then, they were no longer associated with scandal. They were appreciated for their sex appeal and the ability to create extremely feminine and sensual styling. All thanks to the stars of the time, such as Marilyn Monrore and Marlene Dietrich. When the first of these artists appeared in cabarets on the big screen, it did not take long for her to be followed not only by actresses and singers, but also ordinary women. At that time, however, tights were worn only for evening outings. It was not until the second decade of the 21st century that fishnets left the salons and began to appear in everyday fashion. Ladies began to experiment and put them not only to skirts or dresses, but also to shorts or fishnets.
How to wear fishnets without looking vulgar?
In recent seasons cabarets rather did not appear on fashion catwalks. Women were also reluctant to wear them. Fashion, however, makes a circle and mesh tights are back in style. We must remember that this item of clothing is very daring, so the rest of styling should be more calm. If we put on openwork tights, we must be careful not to look vulgar. It is better to give up short mini skirts, high heels, deep cleavage and strong, expressive make-up
Fishnets go perfectly with pencil skirts, soft oversize sweaters or built-in blouses. Ladies who like to stand out can opt for fishnet tights and knee-length flared skirts/dresses. When it comes to shoes, it's best to choose flat heels or low heels. Try matching clothes with a bit of nonchalance, which will give you an interesting and tasteful look. For openwork tights, it's worth choosing a subdued, classic handbag and a soft scarf or neckerchief
Cabernets are the perfect element when it comes to rock styling. They go well with torn jeans (e.g. in the currently fashionable color of washed blue), heavy, black glans-type shoes or punk T-shirts
Fishnets – types
Fishnets can be in any color, but the most popular are those in the color of deep black. Coloured ones or those with shiny thread or sequins are better suited for various events (e.g. fancy dress parties). Openwork tights may have large eyelets or small, hardly noticeable ones. Their cut may resemble typical tights or self-supporting stockings. Cabaret socks, which can be worn with e.g. pants and high-heeled shoes, have also recently appeared on fashion catwalks