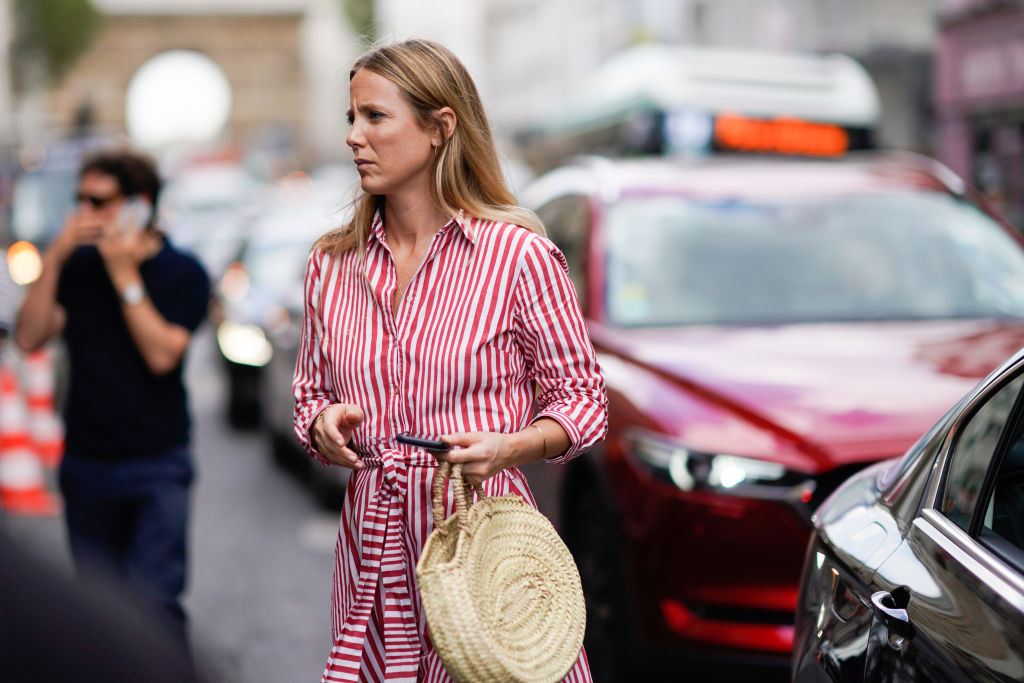 Holiday must-have, which we wear not only during vacations in warm countries, but also in typical city looks. What to combine a basket bag with? We suggest!
A basket handbag is a perfect accessory not only for a beach or a picnic, but also for everyday use. In stores we can find a lot of cuts and shapes, so none of us should have any problems with choosing an ideal one – small, big, boxy, soft, round, trunks, shoppers, with additional decorations, leather elements, on a short handle, on a long strap… The possibilities do not end here.
Wicker braids first appeared in the 1960s thanks to the British actress and singer Joan Birkin, who wore them with almost everything, regardless of the occasion. Since then, their popularity has not waned, in fact, it has been constantly growing, especially during spring and summer, and not only as an element of seaside outfits
Baskets can be made of wicker, raffia, straw, or bamboo. Most often they come in a natural beige color, but you can also find other colors, such as black, white, or pink.
We checked how to create outfits with woven baskets in order to make them look original.
White T-shirt and denim shorts..
One of the most classic and timeless outfits is the white T-shirt or oversized linen shirt and denim shorts, topped with a basket. Here we can bet on both a small chest and a large shopper. Such styling is not only very comfortable but also fashionable and impressive.
…or maybe pants?
Another great combination is simply swapping shorts for long pants, such as the cult bell-bottoms or other wide-legged styles. Add another summer hit – flip-flops – and your outfit is ready.
Basket and summer dress = the perfect duo
Most of us are familiar with baskets and like to wear them with flowy maxi dresses. Here you can leave out the aforementioned flip-flops or sandals, or wear sneakers or sneakers, and add retro sunglasses with round lenses. This look is extremely feminine, full of charm, freshness and summer vibe.
The basket can also be matched with classic or pencil dresses. They will fit perfectly into almost every climate, adding lightness to it.
Contrasting, with patterns
Baskets are so neutral and subdued that we can easily combine them not only with white or pastels, but also with all other colors, even the craziest, bright and dark ones.
What's more, you don't have to limit yourself when it comes to patterns on your clothes either – flowers, dots, stripes, checks…with plaids – everything is allowed and everything looks fantastic
An evening basket? Absolutely!
Braided bags can be worn not only during the day, when the sun is shining, but also in the evening, even in more formal outfits. Baskets, especially those with a chain instead of a belt, will go well with elegant overalls and linen suits.
Nothing stands in the way of combining them with different dresses or classic little black dress, or with a white shirt and cigarillos. This look is very stylish and certainly will not go unnoticed.
What about a round bag?
A real furore in social media are round baskets. It is a real must-have of this season. It goes perfectly with any airy dresses and skirts in boho style. It is worth completing the look with delicate sandals, a straw hat and sunglasses.
When the summer is over, there is no need to hide this geometric bag in the closet. It will also go well with a beige oversized sweater and jeans, or even with a katana or a ramonee. In this case it is worth to experiment a bit with fashion.