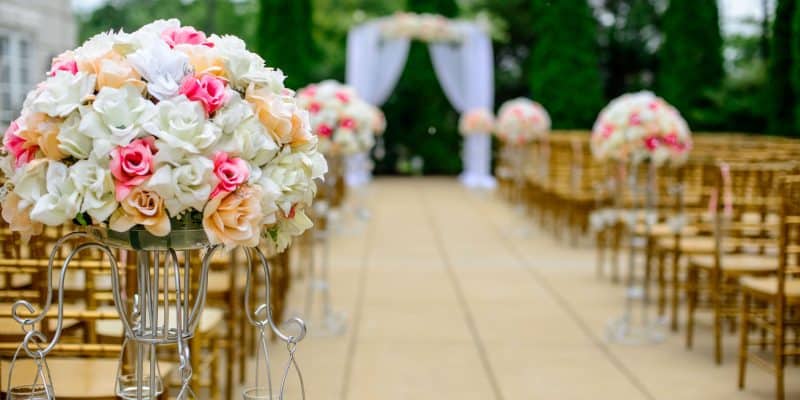 When summer arrives, with it comes the season for weddings. Almost all of us go to at least one such event at this time of year. We often have a problem with styling. What creation to choose in order to feel good and look phenomenal? In this article we suggest how to dress for a wedding in summer.
General rules of dress for a wedding – does such a thing exist?
There is no such thing as "general rules of dress for a wedding". However, it is worth remembering that this is the day on which you are supposed to have fun, but above all – this is the most important day in the life of the bride and groom. For this reason, it is worth being careful. Most brides do not wish female guests to wear white dresses. On that day, the color white is supposed to be exclusively for them. Some young couples also do not want black dresses to appear at the party – after all, it is the color of sadness. The most important thing is to get along with the bride and groom on this issue. It's worth asking them what they think about your choice if you want to wear a black creation, for example. This way you will avoid uncertainty and possibly causing discomfort to the bride and groom.
Here are examples of styling for a summer wedding!
Floral dress
Floral dress for summer – this is it! Flowers are incredibly fashionable and versatile. What's more, this pattern is perfect for summer and spring. If you wear this type of dress to a wedding, you will feel comfortable. This is an outfit that will make other people smile. Floral dresses are available in different versions, In stores you will find long, mini and midi ones. With uncovered shoulders, or not – as you prefer! Combine such a dress with delicate sandals on a pole or beige stilettos. Add to it a delicate, illuminating makeup – and you're done! You will look insane.
Long, simple dress
A long, simple dress in a pastel shade is something that will be perfect for a summer wedding. It is an ideal option for lovers of minimalism. You can match it with any jewelry you like. At your discretion, it can be more rich or modest. Set the whole look with a shiny clutch bag and classic beige stilettos. In makeup in this case, it is worth betting on a strong accent on the lips or eyes.
Suit
The suit is an item of clothing that once belonged only to men. Now we know that women also look insane in them! You don't have to be in a dress at a wedding. You can look just as good in a suit. A colorful set with beige stilettos and elegant makeup will make you look refined and beautiful. If you are not sure if you will feel comfortable in it, then bring a dress with you to the party for a change of clothes. Then you will be prepared for different circumstances. This is the perfect styling for a summer wedding!
main photo: unsplash.com/Shardayyy Photography