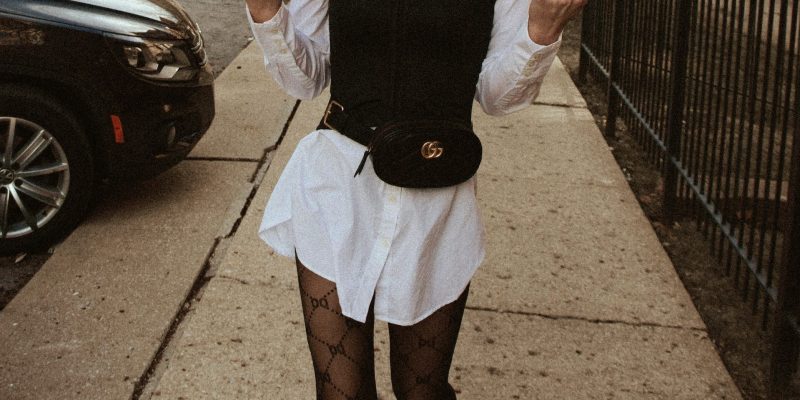 Gothic aesthetics is returning to trends in a big way. No one doubts anymore that gothcore is on the rise. Find out more!
Gothic aesthetics are back on trend!
It's time for a big comeback – after being out of fashion for more than twenty years, the gothic aesthetic is back in favor. If you're a little past your thirties, you certainly remember its previous glory years! Gothic style has that something – a touch of mystery, which is hard to pass by indifferently. We are definitely glad that again it will be possible to dress in dark colors, check, studs … And you, what do you think about it?
Gothcore – what is it?
Gothic style in fashion, although we associate it with the color black, it is actually full of a variety of colors and elements. Gothcore combines wonderfully with grunge style, creating a nonchalant whole in the best taste! What do we love gothcore for? Paradoxically, it represents a real breath of fresh air among the already somewhat boring pastels.
Corset and more
Among the most popular elements of the outfit in the gothic style is, of course, the corset, preferably in black. If you dream of gothcore outfits, you should definitely get yourself such a garment. You can boldly combine it with your favorite skirts and pants, which do not necessarily have to be gothic style. You can also add to it more basic clothes and achieve a great effect.
If we are to name other clothes and accessories that are typically designed for gothic styling, then it would definitely be heavy boots, see-through pieces, black tulle skirts, etc.
Celebrities have fallen in love with gothic style
The most from the return of gothcore to favor seems to be celebrities! For example, the Kardashian sisters, who know as little as anyone about trends, are reaching for clothes in this style. Recently Emily Ratajkowski was also photographed in a gothic style in Paris. Her full-skirted look in black is fit for a true goth queen! A tight cocktail dress with cutouts, accompanied by leather boots, a tiny handbag and circle earrings… Wow, it really made an impression.
How to create a gothcore outfit?
If you want to reach for gothic styling, but you are not necessarily ready to go on a huge shopping spree, or you just don't have much courage, that's okay.
Goth elements can be introduced gradually. A good idea is to reach for transparencies or flowing fabrics – in black, of course. It's also a good idea to wear a short plaid dress and juxtapose it with heavy boots, such as glans or lace-up boots. When getting a manicure and pedicure, why not choose polishes in black? Eyeliner can also help you on your way to a gothic look! It is from such small elements that you will create a whole that will impress and refer to the styling of the most famous Hollywood stars.
main photo: unsplash.com/Joshua Rondeau